Late fatherhood - Older, none the wiser?
Ramajit Raghav from India has created a record of sorts by siring a son at the age of 96!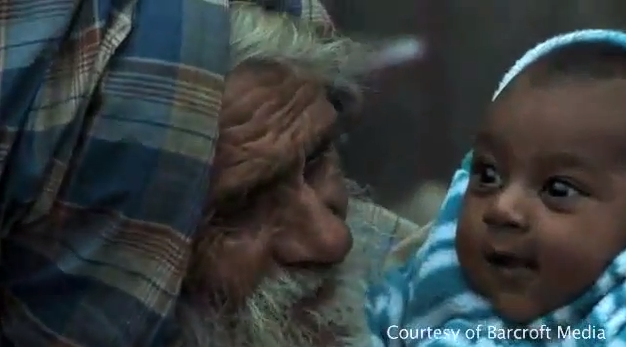 A dad at 96? You gotta be kiddin', right?
While most people would scoff at the idea or rubbish it off as 'impossible', Ramajit Raghav from India has created a record of sorts by siring a son at the age of 96!
RELATED : I'm Daddy and I know it! - Parody of "Sexy and I know it"
Siring a child 96
This 96 year old who stays close to the Indian  capital city, New Delhi, is absolutely ecstatic following this new addition in his family which comes two years after he had his first child from his 54 year old wife, Shakuntala Devi.
Ramajit wants to give both his sons a decent education so that they can lead respectable lives. He is said to be enjoying fatherhood at this age. Though late fatherhood has often been linked to complications and genetic abnormalities, the newborn who has been named Ranjeet, is reported to be hale and hearty.
Secret of his virility
The news of Ramajit siring a child at this ripe old age when most people have grandchildren or even great grand children comes merely a week after the local politicians had raised concerns over the falling sperm count among the men of the area due to excessive consumption of alcohol and drug abuse.
The secret of Ramajit's virility, according to him, is his teetotaler lifestyle, regular exercise (Yoga in his case), a dairy rich diet and lots of fruits. He claims to have sex with his wife 3-4 times every night because that, according to him, is the secret of marital harmony.
RELATED : Father's harsh email goes viral
A doting father and caring husband
Shakuntala, on her part, is gushing too and (like her husband) thrilled too. She does not find her husband too old and says she totally adores him, adding that he made a doting father as well as a caring husband.
Due to their modest income, the couple has made up their mind not to have any more kids and Shakuntala Devi will undergo a sterilization procedure later this year to ensure the same. This decision has been taken by mutual consent because Ramajit works in the fields and has a limited income, though he collects a small amount as pension too. The two want their children to go to school and become high ranking government officials one day.
RELATED : First time fatherhood
Conflicting information
We must however add that there are no official records to verify Ramajit's age and though he has become a darling with the media because of his 'achievement', there have been conflicting news about his past life. A reputed daily had earlier stated that he was single and had led a totally celibate life till he met Shakuntala Devi 10 years back. However, another renowned publication had a different version to state. They asserted that Ramajit had been a widower for almost 25 years till he met Shakuntala Devi at a Muslim shrine about 22 years ago.
Inspite of lack of records to confirm the biological age of Ramajit, there is no denying the fact that he is sexually active at an age when most men would not be, and that he attributes to a disciplined life he has led so far.
Daddies! How old were you when had your kids? Leave us a comment below!
Don't forget to 'Like' our Facebook page!